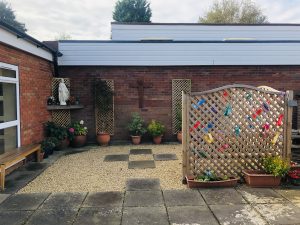 There is an active prayer life at SS Peter and Paul's for all pupils of all ages.
Pupils learn and say daily prayers and regularly pray a Morning Offering, Grace Before Meals, Grace after Meals and Evening Offering.
As pupils progress across the school they learn a wider range of traditional prayers that they are introduced to at age appropriate times, in line with Diocese expectations. For example, Reception pupils are expected to know how to make the Sign of the Cross, the Our Father and the Hail Mary as well as the 4 daily prayers. By Y6 pupils are learning the Prayer to the Holy Spirit and The Apostles Creed. Your class teacher will provide you with the class prayer book for you to have at home so that you can pray the prayers that they are learning to say in school at home in your family.
Pupils also use prayer at different times in the liturgical calendar, to reflect upon key events, such as the Stations of the Cross or the Rosary.
Pupils are taught to write prayers from an early age. They are taught the difference between prayers of intercession and prayers of petition. This enables them to turn to prayer when they personally feel that they need to speak to God. Pupils can make use of the Prayer Garden in school to do this.
Teachers also focus on themes alongside prayer. These may depend on the time of year, such as a focus on Our Lady in May. They also take the opportunity to refer to current affairs – to support pupils in making sense of events that may lead them to be anxious.
We encourage parents to continue the prayer life of their children at home. During the weeks of Lent, we send home regular prayer foci to support with this.
Children at SS Peter and Paul have designed and developed their own prayer garden, seen here in the pictures that is at the heart of our site and used by pupils to pray.