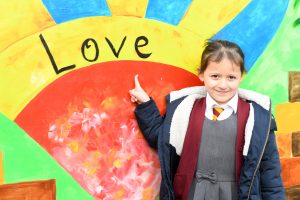 School Motto: Building our future together in Christ
School Mission: Building our future together in Christ, on a firm foundation of love, learning and service
Our Golden Rule: Always treat others as you would like them to treat you.
Our Shared Vision:
Our vision for SS Peter and Paul Catholic Primary Academy & Nursery is to wholeheartedly serve every child by providing a supportive, safe environment in which to promote a love of learning. It is driven by our desire to offer the best possible education for all of our pupils while nurturing the gift of faith through catechesis and our daily actions. We do this is partnership with parents, the Parish and the local community. Through prayer, love , respect and friendship we show that we are signs of God's love.
To achieve our vision we will:
foster spiritual & moral development
encourage personal & social development with a clear focus upon emotional well-being & resilience
raise standards of achievement to enable each child to achieve their intellectual potential
deliver a curriculum that meets the intellectual, physical & creative needs of each child
provide learning where high standards are pursued with consistency & enthusiasm
make valuable contributions that serve the parish & wider community fostering a spirit of charity, respectfulness & care of others
Encourage a sense of global responsibility
For more information about our Catholic Life & Mission please click here.