Following the scenes witnessed when Christian Eriksen collapsed in Denmark's opening
Euro 2020 game against Finland, pupils at SS Peter and Paul have launched a campaign to try and secure funding to help us install a community defibrillator. Through their research, they have mapped the locations of existing devices and now have a compelling argument for action.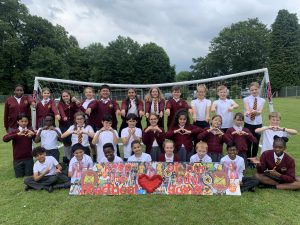 Recently as a school community, we thanked former Wolves manager Nuno Espirito Santo for personally backing and helping fund the 'Feed Our Pack' campaign. Now, as a force for good in our City, we turn to Wolverhampton Wanderers Foundation to see if they will back our campaign to install a defibrillator at our school and at others across Wolverhampton. In an open letter to incoming manager Bruno Lage, Year 6 have asked for his personal backing for a campaign they refer to as: 'Keeping the Heartbeat of the City Going'.
Year 6 have made their own campaign video and will be contacting local businesses in the hope that sponsors may also feel passionately about the benefits of defibrillators for schools.