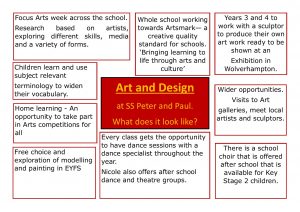 Intent
At SS Peter and Paul, we value Art and Design as an important part of the children's entitlement to a broad and balanced curriculum. Art and Design provides the children with the opportunities to develop and extend skills and an opportunity to express their individual interests, thoughts and ideas. The curriculum will enable the children to create art work with a real purpose when displaying and sharing their work.
Implementation
At SS Peter and Paul, Art is planned for based on the National Curriculum programmes of study. It aims to ensure all pupils: 
 Produce creative work, exploring their ideas and recording their experiences

 Become proficient in drawing, painting, sculpture and other art, craft and design techniques

 Evaluate and analyse creative works using the language of art, craft and design

 Know about great artists, craft makers and designers, and understand the historical and cultural development of their art forms.
Art is planned and taught in topic blocks to enable the achievement of a greater depth of knowledge, skills and vocabulary. Children will be introduced to a range of works and develop knowledge of the styles and vocabulary used by famous artists. In Art, children are expected to be reflective and evaluate their work, thinking about how they can make changes and keep improving. Children are encouraged to take risks and experiment and then reflect on why some ideas and techniques are successful or not for a particular project. Where applicable, links to develop children's learning experiences beyond the classroom will also take place, in the form of workshops, links with local artists and visits to art galleries. 
Impact
Within Art and Design, we strive to instill an appreciation and enjoyment of the arts enriching the children's learning experience. Our art and design curriculum is well thought out and planned to demonstrate progression. We focus on progression of knowledge, skills and vocabulary all which form parts of the units of work during our focus weeks.  Art and design is assessed through observations, photographs, pupil discussion and a celebration of their creations.