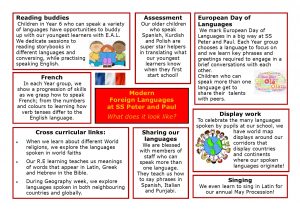 Intent
Within SS Peter and Paul, we believe that studying a language in primary school provides children with skills that are essential for modern life. As well as giving children the opportunity to learn a new language (an increasingly important skill in our globalised society), it also helps to promote and develop a broader intercultural understanding.
At SS Peter and Paul, we are teaching French and we hope by studying the French language, children will be exposed to wonders of French culture and position in the world.
Our aim, which is at the heart of the programme of study for KS2, is to develop an enthusiastic and positive attitude to the learning of new languages. We hope to encourage a life-long learning of languages among our pupils in order to enhance their understanding of the world. We aim to celebrate the fact that some of our children, as young as 5 years old are bilingual or often trilingual, and that this is something to be supported and praised. We believe that this will aid our pupils to have high aspirations for their future careers as being able to speak a foreign language can be very beneficial and will provide many opportunities.
We believe that to accomplish this, we should provide the children with the opportunities to:
familiarise themselves with the sounds and written form of a modern foreign language;
begin to understand a new language, and communicate in it;
make comparisons between languages and culture;
develop a positive attitude towards the learning of foreign languages in general;
use their knowledge of the foreign language with growing confidence, both to understand what they hear and read, and to express themselves in different ways;
Acquire a strong foundation for further study at Key Stage 3 and beyond.
Implementation
SS Peter and Paul Catholic Primary Academy has a dedicated MFL leader with responsibility to ensure there is coverage and progression in the teaching of French across Years 3 to 6. They ensure a balanced and well-distributed coverage, set out in the programme of study for KS2, to ensure continuity and progression in language learning across the key stage. It is clearly set out on the MFL long term plan.
All classes have access to very high—quality resources to support the teaching of French. This will progressively develop pupils' skills in foreign languages through regularly taught and well-planned weekly lessons in KS2, which will be taught by class teachers.
Children will progressively acquire, use and apply a growing bank of vocabulary, language skills and grammatical knowledge organised around age-appropriate topics and themes – building blocks of language into more complex, fluent and authentic language. All teachers will know where every child is at any point in their foreign language learning journey.
Pupil learning and progression will be assessed at regular intervals in-line with school policy. Teachers will aim to assess each language skill (speaking, listening, reading and writing) twice throughout each scholastic year to be able to provide reference points against which learning and progression in each skill can be demonstrated.
Impact
Pupils will continuously build on their previous knowledge as they progress in their foreign language learning journey through the primary phase. Previous language will be recycled, revised, recalled and consolidated whenever possible and appropriate.
Teachers will have a clear overview of what they are working towards and if they are meeting these criteria. They will use the long-term planning document to ensure the correct units are being taught to the correct classes at each stage of the scholastic year.
Children will be assessed against the programmes of study criteria, and will be able to:
listen attentively to spoken language and show understanding by joining in and responding
explore the patterns and sounds of language through songs and rhymes and link the spelling, sound and meaning of words
engage in conversations; ask and answer questions; express opinions and respond to those of others; seek clarification and help*
speak in sentences, using familiar vocabulary, phrases and basic language structures
develop accurate pronunciation and intonation so that others understand when they are reading aloud or using familiar words and phrases*
present ideas and information orally to a range of audiences*
read carefully and show understanding of words, phrases and simple writing
appreciate stories, songs, poems and rhymes in the language
broaden their vocabulary and develop their ability to understand new words that are introduced into familiar written material, including through using a dictionary
write phrases from memory, and adapt these to create new sentences, to express ideas clearly
describe people, places, things and actions orally* and in writing
Children are expected to make good or better than good progress in their foreign language learning and their individual progress is tracked and reported to pupils and parents / carers in line with school recommendations. This will enable teachers to put in place an early intervention programme to address any areas that require attention in any of the language learning skills the following year.
Documents
Gallery