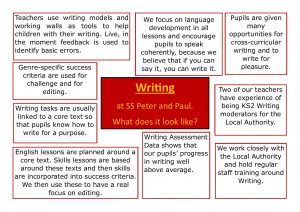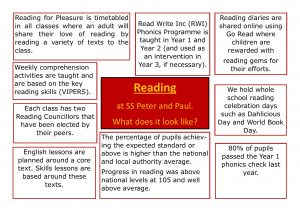 Writing Intent
We believe that reading and writing go hand in hand with one another. We also believe that if you can say it, you can write it. We want our pupils to be confident writers who can write coherently for a range of purposes and for pleasure. Our aim is that our pupils are able to adapt their writing style to suit the audience and purpose of what they are writing. Confident writers will be able to manage levels of formality within their writing and will always consider the impact their writing will have upon the reader.
Writing Implementation
We build in opportunities in our daily teaching for lots of collaboration between pupils and fluid ability grouping so that children can learn good writing models from high quality examples and from one another. 
Our working walls are updated daily with the children and are used as a learning tool to assist with the writing process. Our teaching weeks are structured so that pupils from Years 1 to 6 develop their spelling, punctuation and grammar skills in the context of the book that the class are studying. In addition, pupils have opportunities for shared and guided writing, planning, writing extended pieces and redrafting their work. We focus on developing an understanding of purpose and audience through discussion, through deconstructing texts and through the use of success criteria; these are vital in assisting pupils with redrafting their writing. We have a real focus on editing and ensure that pupils value this as part of the writing process; after all, even famous writers have to edit their work many times before producing their final piece. WAGOLLs (What A Good One Looks Like) are used to show pupils effective models and to show how a success criteria can be implemented. Pupils are equipped with the skills to enable them to be confident writers and to be able to write for purpose and meaning across the curriculum.  
We have high expectations over handwriting, overall presentation and basic skills application with teachers using in-the-moment feedback to ensure that pupils show that they always have pride in their work. We use the Kinetic Letters Programme to support our handwriting teaching and this is taught throughout the whole school.
Writing Impact
Our pupils are confident writers and our pupils' progress is well above average. Children know which tools they can use around the classroom to help them with their writing and so our pupils love to showcase their skills through their independent writing. Our pupils have pride in their work and love to show their writing off to their friends or to the adults in school. They know how to write for a range of different purposes and can do this across the curriculum. 
Our pupils' work is neat and well-presented, therefore further demonstrating their pride in their work.
Reading Intent
Reading is at the heart of our curriculum and we want all of our children to love reading. We know that through reading, children develop their vocabulary, their knowledge of phonics and spellings, their knowledge of writing techniques and most of all, their imagination. We believe that Reading for Pleasure is just as important as reading for learning.
Reading Implementation
Each classroom has its own Reading for Pleasure area and each class vote for their Reading for Pleasure text where their teacher will then dedicate specific time on their timetable each week to read to their class for enjoyment. In addition to this, we have our own Reading Council: two members of each class who have been elected by their peers to work with the English Co-ordinator to ensure that reading continues to be a top priority. We hold various events throughout the school year to showcase our love of reading, for example Dahlicious Day, World Book Day and reading area competitions between classes. Parents are invited into school to share books with their children, particularly in our Early Years setting. Each child has access to home reading books that are matched to their reading ability and which provide a suitable level of challenge. Pupils can choose books from their Reading for Pleasure area and from book boxes supplied by the Education Library Service. 
Phonics is taught daily in Reception and Year 1, following the Read, Write Inc programme. Our pupils are well prepared for the phonic screening test in Year 1, which gives them a foundation for future learning, especially in preparation for them to become confident and fluent readers.  Pupils that do not pass the phonics screening test are supported with intervention to ensure that they pass by the end of Year 2. 
Guided Reading takes place weekly from Year 2 to Year 6 where children are heard read aloud and where they look in depth at each of the Reading skills – commonly known in our school as the Reading Vipers. The Reading Vipers are used consistently across the school and parents are encouraged to use these when listening to their children read by using the Reading Vipers question stems, which are printed in the front of individual reading diaries. 
We also choose quality texts for our English teaching, which we use to further develop our reading skills, through a focused approach, based on the content domains. These texts have been carefully chosen to ensure that our pupils are given a rich reading diet and so that pupils can make links with other curriculum areas, where appropriate.
Reading Impact
Our pupils love reading! They speak passionately about texts they are enjoying, particularly their class Reading for Pleasure text. They know that we focus on a range of reading skills (Vipers) and can use their language associated with these skills when explaining what they are learning. 
By the end of Key Stage 2, our progress in reading is consistently well above average and our pupils achieve a standard that is above the average of the local authority. 
Our phonics results show that our pupils achieve a standard that is very close to the national average.