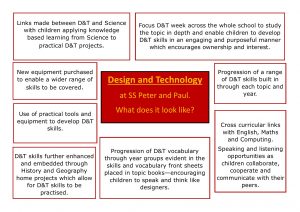 "Design and Technology should be the subject where mathematical brainboxes and science whizzkids turn their bright ideas into useful products"
– James Dyson
Intent
At SS Peter and Paul, our Design and Technology curriculum gives our children the opportunity to develop skills, knowledge and understanding of how to design and make functional products. During lessons, children are encouraged to use their creativity and imaginations to design and make products that solve real and relevant problems within a variety of contexts.
Implementation
Design and Technology is taught through the delivery of clearly structured Design and Technology projects. Each year group undertakes a healthy eating based food project as well as topics on structures, textiles, mechanical systems or electrical systems.
During lessons, our young designers follow the process of research, design, make and evaluate. Our cross curriculum links with Science gives the children further opportunities to apply their Design and Technology skills to 'hands on' situations in a purposeful context.
During the design process, children learn to use research to create a design brief and are given opportunities to communicate their ideas through discussions, annotated sketches, diagrams, prototypes and computer aided design.
When making, children are able to select from a range of tools and equipment to develop skills such as cutting, shaping and joining.
Children are then able to evaluate their ideas and products against their own design criteria and consider ways to improve their own and others work.
Impact
Design and Technology is often one of a child's favourite subjects due to the opportunities to make decisions for themselves.  Through this subject, children learn how to take risks enabling them to become resourceful and innovative. Through the evaluation of past and present design and technology, our children develop a critical understanding of its impact on daily life and the wider world.
Documents
Gallery